Web services for disabled people
The State Fund for Rehabilitation of Disabled People (PFRON) is responsible for activities for the rehabilitation and employment of disabled people in Poland.
The PFRON website is a key tool for communicating with the disabled and their carers. As PFRON implements numerous projects addressed to various social groups at the same time, separate sections of the portal are provided by, for example, non-governmental organizations, entrepreneurs, and farmers.
In 2016, PFRON entrusted Inovatica with the preparation of a new portal. The requirements for the new platform include, among others
Open source content management system (CMS).
Possibility of using the website by users with all disabilities and seniors. The websites www.pfron.org.pl and bip.pfron.org.pl were to be a model example of the implementation of WCAG 2.0 at the A and AA levels. This means the implementation of the website in accordance with a number of additional requirements such as:

Ability to view the website by the blind and visually impaired (this is achieved, among others, by switching to high contrast and descriptions of each page element so that it is possible to use audio description).
Optional navigation in the website using only the keyboard.
Appropriate size and visibility of buttons.
Publication of content in such a way as to facilitate the reading of it.
Application of good UX practices.
Compliance with the international standard of website development: W3C
Website optimization for mobile devices.
Website optimization for SEO.
Migration of content.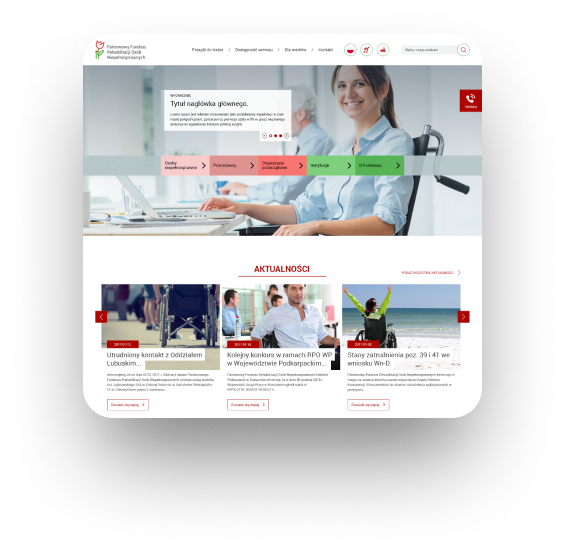 Facts and figures
Number of potential users: over 5 million (number of disabled people in Poland, not including their supporters/families).
Only in 2020 the website www.pfron.org.pl recorded nearly 8 million views, generated by 1.3 million users.
Every year, PFRON spends around 5.5 billion PLN (5.6 billion in 2019) to help the disabled.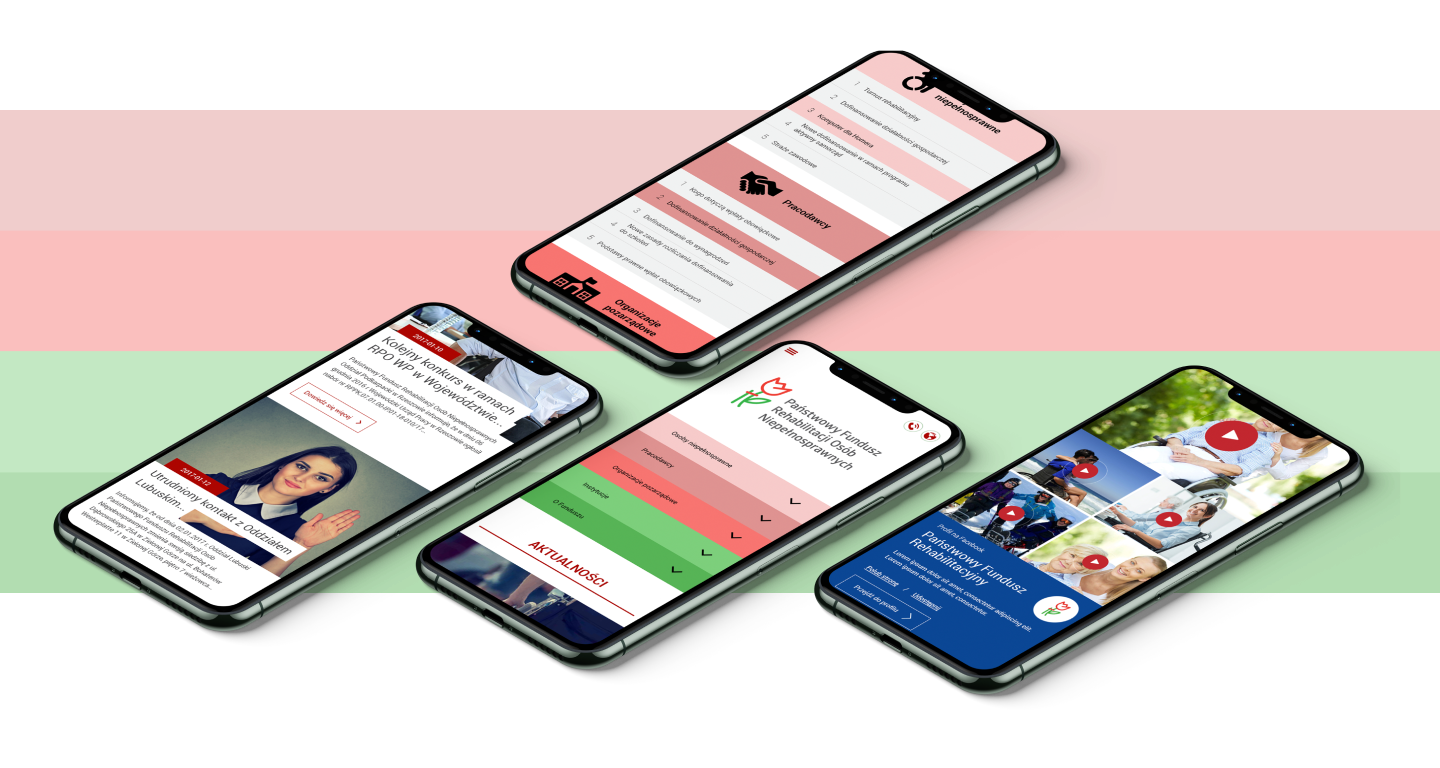 Website for public administration
After reviewing the PFRON requirements, we analyzed the available solutions and proposed that the new website be equipped with CMS TYPO3. We chose this solution because it best allows implementing a number of services extremely important for public administration, e.g.
Setting different access levels depending on the assigned role - the TYPO3 administration panel allows you to easily manage profiles and grant them appropriate permissions, e.g. editor, administrator. In addition, it allows the inclusion of people assigned to a given role into a group and the simultaneous work of several website maintainers at the same time.
A well-thought-out,

secure policy for creating and managing passwords

(rules for building a password, its length and complexity, forcing a change at the next login),
The administrator independently determines the scope of access to data and files stored in the system.
TYPO3 allows you to easily save and share the history of all operations performed by users (including login, display, place, change and delete content), which is extremely important when editing BIP.
Great possibility of additional integration. In the case of PFRON, it was necessary to integrate with an external database and ensure synchronization of introduced changes.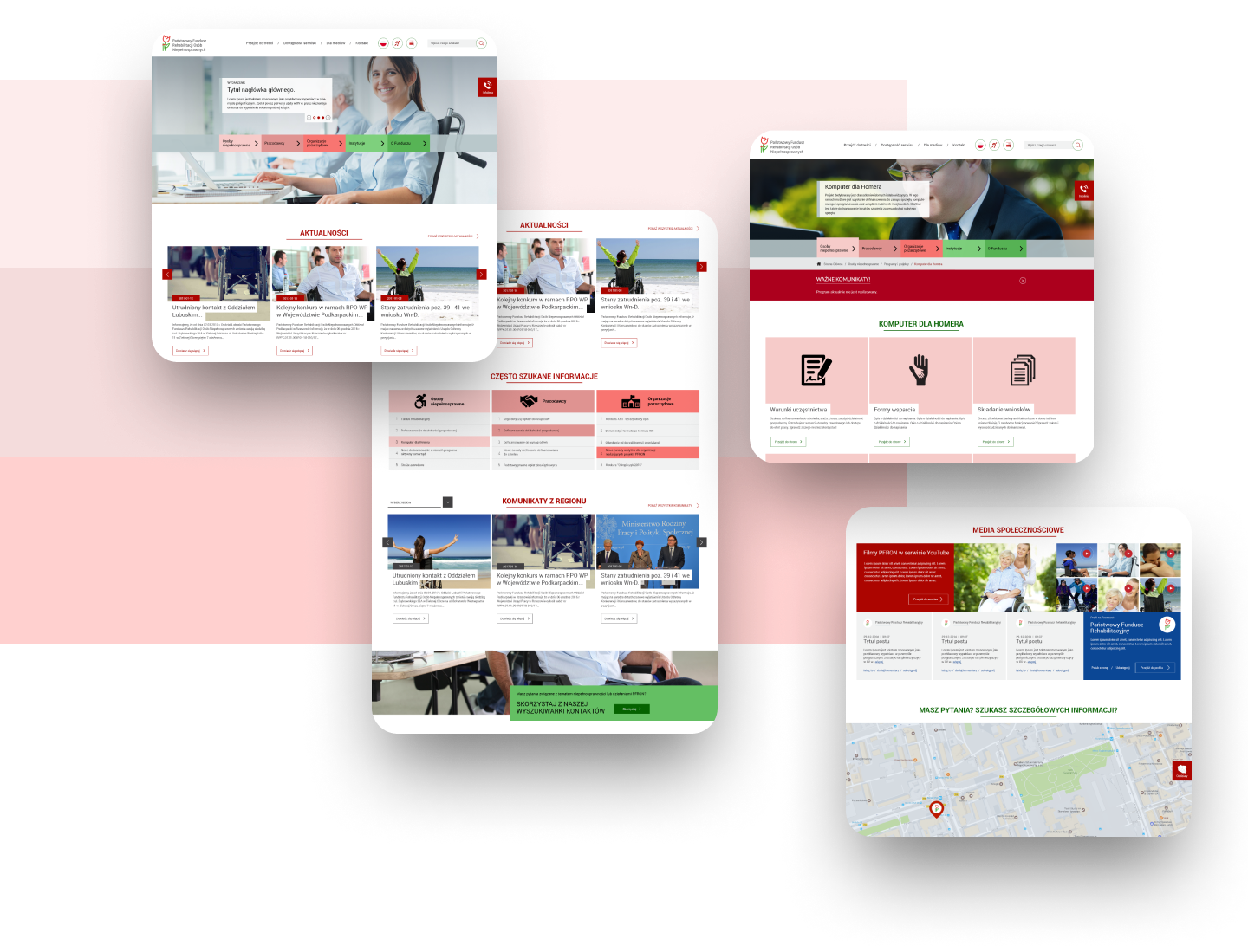 Summary
In addition to solutions that are particularly useful for public administration websites, the website has numerous functionalities useful in every website:
Newsletter
A convenient and effective newsletter is primarily valuable content and a tailored group of recipients. However, when implementing www, you can implement many solutions that will further facilitate communication, e.g. the ability to use multiple templates for different defined versions of notifications, automatic generation of a list containing information about new articles (with the option to disable selected items before shipment) or numerous options for defining groups of recipients.
Security
By implementing an online service, we try to limit both internal risks and the possibility of external attacks. Differentiated access rights and registers of introduced changes are used to limit the internal risk. Regardless of the causes of the detected fault, you can also count on regular backup.
While implementing the service for PFRON, we undertook to introduce a number of security measures in the event of an external attack, the details of which must be kept confidential. It is very important, however, to ensure that the implemented service is constantly updated, and the contractor undertook to immediately correct any detected security gaps.
Summary
We have implemented the PFRON service in accordance with all requirements, thanks to which it has become even more user-friendly. We also took care of the transfer of all data, external integrations, and training in operation.

Check out our

case studies

Check how we solve problems of various industries. Find out how our websites, TYPO3 services, Android and iOS mobile applications are created. Click on the selected case study and find out more: